Vashon Market IGA
Recipes
https://vashonmarket.iga.com/Recipes/Detail/1561/Butternut_Squash_and_Pear_Soup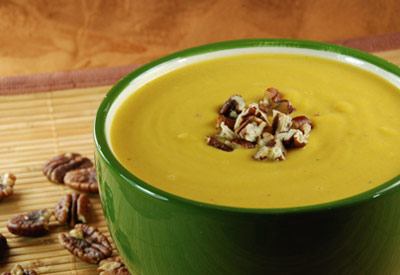 Butternut Squash and Pear Soup
Deliciously sweet and creamy
Customer Rating:
1 Ratings 1
Yield: 6 servings (1 cup each)
Ingredients
2
Tablespoons

butter

1

medium onion, chopped

2
cups

vegetable or chicken broth

1
pound

butternut squash, pared, seeded and cut into 1- inch cubes

2

pears, sliced

2
teaspoons

fresh thyme, snipped

1/4
teaspoon

ground coriander

1/4
teaspoon

ground white pepper

1/4
teaspoon

salt

1
cup

cream or half and half

Optional Toppings:

1

pear, sliced

1/2
cup

pecans, toasted and chopped
Directions:
In a 4- quart Dutch oven saute onion in butter until tender.

Add broth, squash, 2 sliced pears, thyme, coriander, white pepper and salt. Heat to boiling; reduce heat. Cover and simmer until squash is tender, 10 to 15 minutes.

Pour about half of the soup into a blender* container; cover and process until smooth. Repeat with remaining soup and return to the Dutch oven.

Stir in whipping cream. Heat, stirring frequently, until hot. Serve with pear slices and toasted chopped pecans, if desired.
Photo and food styling by Webstop
*An immersion blender can be used in place of a blender to puree the soup in the Dutch oven.
Please note that some ingredients and brands may not be available in every store.
Vashon Market IGA
Recipes
https://vashonmarket.iga.com/Recipes/Detail/1561/